LANDMARKS by Robert MacFarlane
Words are grained into our landscapes, and landscapes are grained into our words. Landmarks is about the power of language to shape our sense of place. It is a field guide to the literature of nature, and a glossary containing thousands of remarkable words used in England, Scotland, Ireland and Wales to describe land, nature and weather.
Travelling from Cumbria to the Cairngorms, and exploring the landscapes of Roger Deakin, J. A. Baker, Nan Shepherd and others, Robert Macfarlane shows that language, well used, is a keen way of knowing landscape, and a vital means of coming to love it.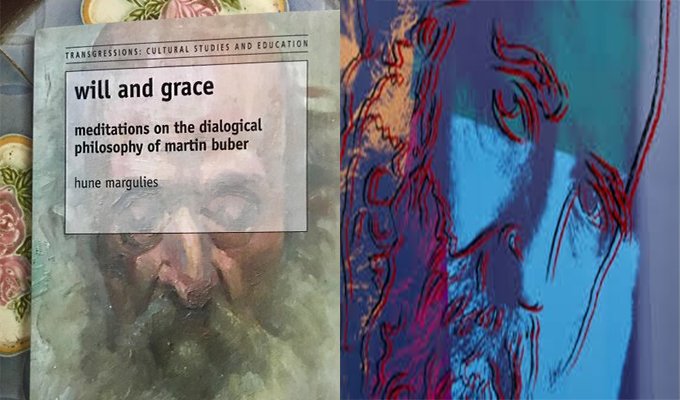 WILL AND GRACE by Hune Margulies
this book is a poetic reading of the dialogical philosophy of martin buber. my reading of martin buber takes me to this principal insight: god is not in heaven nor on earth. god is not above nor below. not within and not without. not in the soul or in the flesh. god is not an entity anywhere: god is the between of an i and a thou. these pages are not an academic study in the strict sense. my meditations in this book are not a literal description of buber's philosophy, for buber would never have approved of taking his words in any way other than in dialogue. buber wrote in-dialogue with the reader, and i read buber in the poetic philosophy of his words.
in other words: we can say that the essential thinking in martin buber's philosophy is that the presence of god in us is always enacted as the presence of god between us. god, like love, like poetry, is a deed we do. the god-deed is actualized not in rituals or temples, but in the practices of the sacraments of the neighbor. for there is nothing we can predicate of god, but we can still meet god in the embrace of the neighbor. we meet god as we meet with one another in genuine relationship. god is not in the relationship, god is the relationship. god is no-thing, but there is nothing that isn't god in the between of an i and a thou.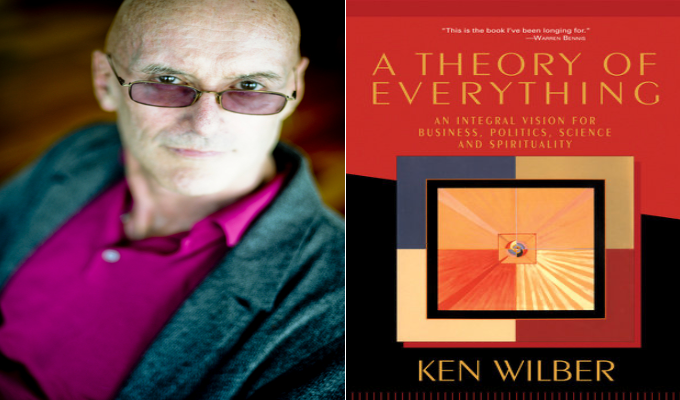 Theory of Everything
by Ken Wilber
Ken Wilber has long been hailed as one of the most important thinkers of our time, but his work has seemed inaccessible to readers who lack a background in consciousness studies or evolutionary theory—until now. In A Theory of Everything, Wilber uses clear, non-technical language to present complex, cutting-edge theories that integrate the realms of body, mind, soul, and spirit. He then demonstrates how these theories and models can be applied to real world problems and incorporated into readers' everyday lives.

Wilber begins his study by presenting models like "spiral dynamics"—a leading model of human evolution—and his groundbreaking "all-level, all-quadrant" model for integrating science and religion, showing how they are being applied to politics, medicine, business, education, and the environment. He also covers broader models, explaining how they can integrate the various worldviews that have been developed around the world throughout the ages. Finally, Wilber proposes that readers take up an "integral transformative practice"—such as meditation—to help them apply and develop this integral vision in their personal, daily lives. A fascinating and easy-to-follow exploration of the "M Theory," this book is another tour-de-force from one of America's most inventive minds.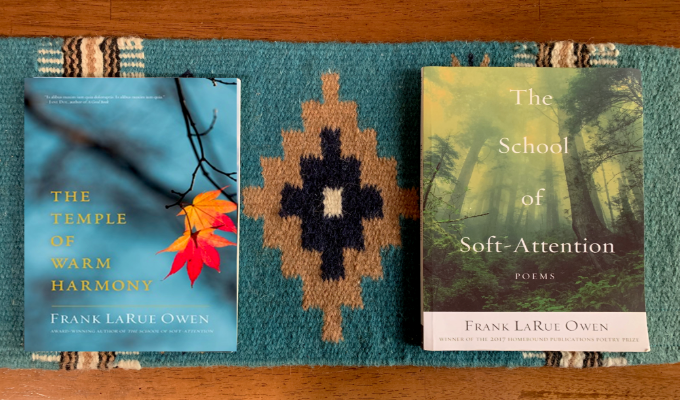 The Temple of Warm Harmony and The School of Soft-Attention
by Frank LaRue Owen
The Temple of Warm Harmony is a book of poems, but it is also something of a map. Some of the poems are about the author, some are about the reader, while other poems are about the times we're all living through. A blend of mini-exorcisms, healing incantations, dreams, and invitations to numinous ways of observing and experiencing life, the book is divided into three parts: In the World of Red Dust, Heartbreak and Armoring, and Entering The Temple of Warm Harmony. On the heels of his award-winning first book of poetry, The School of Soft-Attention, poet Frank LaRue Owen invites "fellow travelers" to consider ways we can regain a sense of harmony even while navigating challenging terrain, personally and collectively
It has been said that poetry can be a marker of where a poet has been, or a way for a poet to point to places where we, the reader, can go. Both types of poems appear in The School of Soft-Attention. Not corralled to any one poetic style, the heart-mind-river that forms this flowing collection has been shaped by the author's diverse cross-cultural experiences, spiritual tutelage with a New Mexican wisewoman and wilderness guide, and fueled by such practices as meditation in the Zen tradition, mountain pilgrimages, fasting in the deserts of New Mexico, and intensive dreamwork. At every point along the way, the poems in The School of Soft-Attention invite the reader to turn to a new way of seeing, a new way of paying attention to the life within and around us.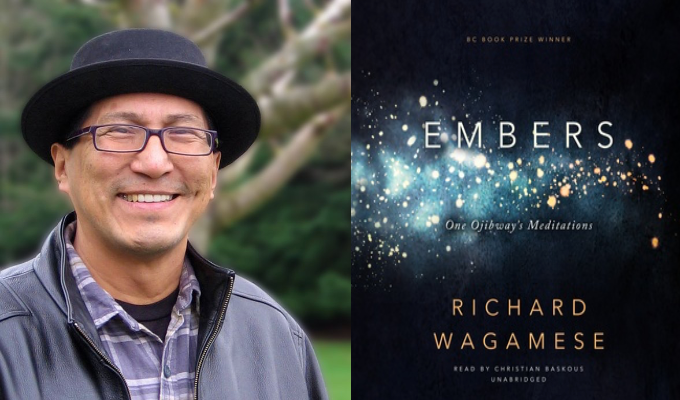 Embers: One Ojibway's Meditations
by Richard Wagamese
A beautifully packaged collection of personal reflections from one of Canada's foremost First Nations authors.
Life sometimes is hard. There are challenges. There are difficulties. There is pain. As a younger man I sought to avoid them and only ever caused myself more of the same. These days I choose to face life head on–and I have become a comet. I arc across the sky of my life and the harder times are the friction that lets the worn and tired bits drop away. It's a good way to travel; eventually I will wear away all resistance until all there is left of me is light. I can live towards that end.
– Richard Wagamese, Ember
In this carefully curated selection of everyday reflections, Richard Wagamese finds lessons in both the mundane and sublime as he muses on the universe, drawing inspiration from working in the bush–sawing and cutting and stacking wood for winter as well as the smudge ceremony to bring him closer to the Creator. Embers is perhaps Richard Wagamese's most personal volume to date. Honest, evocative and articulate, he explores the various manifestations of grief, joy, recovery, beauty, gratitude, physicality and spirituality–concepts many find hard to express. But for Wagamese, spirituality is multifaceted. Within these pages, readers will find hard-won and concrete wisdom on how to feel the joy in the everyday things. Wagamese does not seek to be a teacher or guru, but these observations made along his own journey to become, as he says, "a spiritual bad-ass," make inspiring reading.
Keep Moving
by Maggie Smith
"Every once in a long, long while a book comes along that challenges and changes everything. Keep Moving is exactly that book: an ingenious synthesis of poetry, proverbs, journaling, lyrical prose, belles-lettres, psalms, meditations, and aphorisms. It defies any tidy definition, and thus, practically defines a new genre that gives everyone—no matter what walk of life—the gift of pausing to reflect on what we didn't know we already knew about ourselves because we never had words for it, until Maggie Smith. These pages give us a unique and poetic opportunity to recognize the joys within our failures, the peace within our terrors, the simplicity within our complex lives—and then some! It is sure to become a classic that will be read for decades to come."
– Richard Blanco, Presidential Inaugural Poet, author of How to Love a Country
When Maggie Smith, the award-winning author of the viral poem "Good Bones," started writing inspirational daily Twitter posts in the wake of her divorce, they unexpectedly caught fire. In this deeply moving book of quotes and essays, Maggie writes about new beginnings as opportunities for transformation. Like kintsugi, the Japanese art of mending broken ceramics with gold, Keep Moving celebrates the beauty and strength on the other side of loss. This is a book for anyone who has gone through a difficult time and is wondering: What comes next?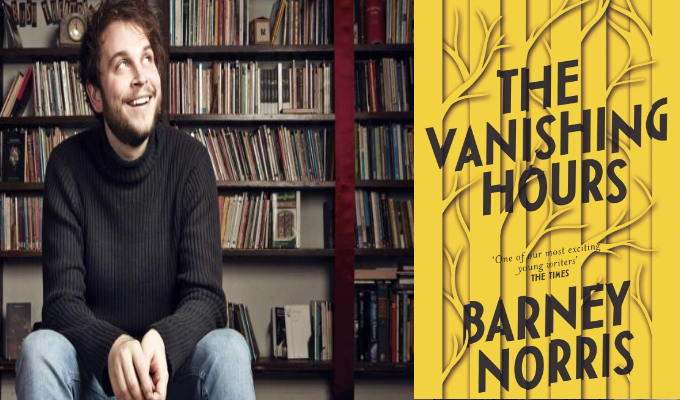 The Vanishing Hours
by Barney Norris
Shot through with compassion . . . this dreamlike, winding tale is a joy.' A. L. KENNEDY
'Moving and unconventionally wise' Guardian
This was how I heard the most important story of my life, the thing that decided me, the story that determined who I was in the end.
At a hotel bar in a quiet English town, two strangers meet by chance and share their stories. Hers is of an inconspicuous life, shaken by heartbreak and scattered with unfulfilled dreams. His is a dizzying tale of an unending quest for someone he lost in his youth.
From the blustery cliffs of Dover to the confines of a dark prison cell; from the courtroom witness box to the West End stage, we join him as he slips through time.
Extraordinary though his story is, what she has to reveal is even more surprising, and will take them to a place neither of them – or you – expected.
From the bestselling author of FIVE RIVERS MET ON A WOODED PLAIN comes this captivating novel about love, abandonment, and the power of stories to help us find meaning in a confusing world – a world that can sometimes threaten to overwhelm us, but one that is rich with possibility, and always full of wonder.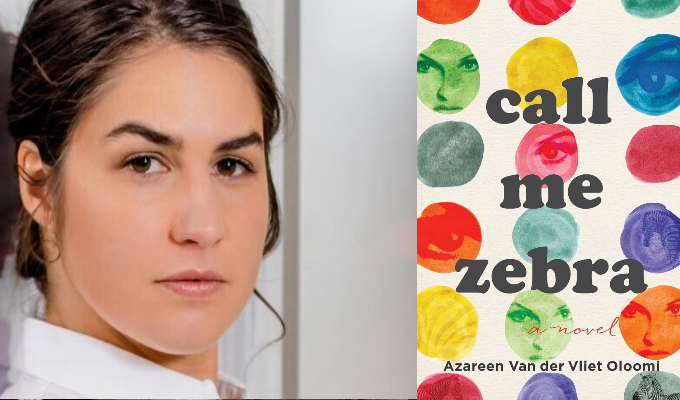 Call Me Zebra
by Azareen Van der Vliet Oloomi
Hearken ye fellow misfits, migrants, outcasts, squint-eyed bibliophiles, library-haunters and book stall-stalkers: Here is a novel for you."
– Wall Street Journal
"A tragicomic picaresque whose fervid logic and cerebral whimsy recall the work of Bolaño and Borges."
– New York Times Book Review
Longlisted for the PEN/Open Book Award * An Amazon Best Book of the Year * A Publishers Weekly Bestseller
Named a Best Book by: Entertainment Weekly, Harper's Bazaar, Boston Globe, Fodor's, Fast Company, Refinery29,Nylon, Los Angeles Review of Books, Book Riot, The Millions, Electric Literature, Bitch, Hello Giggles, Literary Hub, Shondaland, Bustle, Brit & Co., Vol. 1 Brooklyn,Read It Forward,Entropy Magazine,Chicago Review of Books, iBooks and Publishers Weekly

Zebra is the last in a line of anarchists, atheists, and autodidacts. Alone and in exile, she leaves New York for Barcelona, retracing the journey she and her father made from Iran to the United States years ago. Books are her only companions—until she meets Ludo. Their connection is magnetic, and fraught. They push and pull across the Mediterranean, wondering if their love—or lust—can free Zebra from her past. Starring a heroine as quirky as Don Quixote, as brilliant as Virginia Woolf, as worldly as Miranda July, and as spirited as Lady Bird, Call Me Zebra is "hilarious and poignant, painting a magnetic portrait of a young woman you can't help but want to know more about" (Harper's Bazaar).
The Midnight Library
by Matt Haig
Between life and death there is a library, and within that library, the shelves go on forever. Every book provides a chance to try another life you could have lived. To see how things would be if you had made other choices . . . Would you have done anything different, if you had the chance to undo your regrets?
A dazzling novel about all the choices that go into a life well lived, from the internationally bestselling author of Reasons to Stay Alive and How To Stop Time.
Somewhere out beyond the edge of the universe there is a library that contains an infinite number of books, each one the story of another reality. One tells the story of your life as it is, along with another book for the other life you could have lived if you had made a different choice at any point in your life. While we all wonder how our lives might have been, what if you had the chance to go to the library and see for yourself? Would any of these other lives truly be better?

In The Midnight Library, Matt Haig's enchanting new novel, Nora Seed finds herself faced with this decision. Faced with the possibility of changing her life for a new one, following a different career, undoing old breakups, realizing her dreams of becoming a glaciologist; she must search within herself as she travels through the Midnight Library to decide what is truly fulfilling in life, and what makes it worth living in the first place.
The Cosmos In A Carrot: A Zen Guide to Eating Well
by Carmen Yuen
The Cosmos in a Carrot distills the best of Buddhist wisdom, nutritional information, and health advice and puts it together in a lively guide that challenges conventional thinking. Aimed at a broad audience, the book is divided into three main parts: What Would Buddha Eat, A Mindful Diet, and A Mindful Diet in Action. Author Carmen Yuen offers authoritative discussion of nutritional science, such as calories, antioxidants, and the different types of fats, and gives practical suggestions on consumption strategies, mindful grocery lists, and recipes. In clear, informed prose she helps readers understand their relationship to food, weight, and health by using a "whole systems" approach of mindfulness techniques to break the patterns of unhealthy eating. The Cosmos in a Carrot explains how to integrate foundational Buddhist ideas, such as non-violence and no-self, and practices like the tea ceremony into the reader's everyday experiences with food. Profiles of four "mindful eaters" help personalize the process
Introduction; Part One: What Would Buddha Eat?; A New Philosophy for Eating Well; The First and Second Noble Truths; The Third and Fourth Noble Truths; No-Self and Interbeing; The First Mindfulness Training: Nonviolence; The Second Mindfulness Training; The Third, Fourth, and Fifth Mindfulness Trainings; The Middle Path, Nonduality, and Nonattachment; Part Two: A Mindful Diet; Guidelines for Healthy Eating; A Mindful Approach to Weight Loss; A Mindful Approach to Fad Diets; Part Three: A Mindful Diet In Action; Mindful Eating; Eating with Your Sangha; Tea Meditation; Orange Meditation Mindful Cooking Mindful Grocery Shopping; Part Four: In Buddha's Bowl: Meet Four Mindful Eaters; Alissa Romanow; Sally Stokes; Bruce Blair; Jane Ariel; Conclusion; Appendix A: A Mindful Grocery List; Appendix B: Mindful Meals; Appendix C: The Five Mindfulness Trainings; Appendix D: The Fourteen Precepts of Engaged Buddhism; Notes; Index; About the Author